A Private Wedding Full of Flavor at Auberge
Surrounded by soft sunlight filtering through the trees, the sound of water, and the chirping of the birds,
we will assist you in offering the very best to entertain your guests.
We offer complete made-to-order fare according to your preferences,
making it possible for you to select a menu and the event you desire.
In particular, the owner chef Onuma will consult with you from the planning phase
and prepare a special course just for the two of you.
After the party, relax at Auberge, right next door.
Enjoy a private wedding full of flavor at Auberge.
---
Wedding Cuisine
---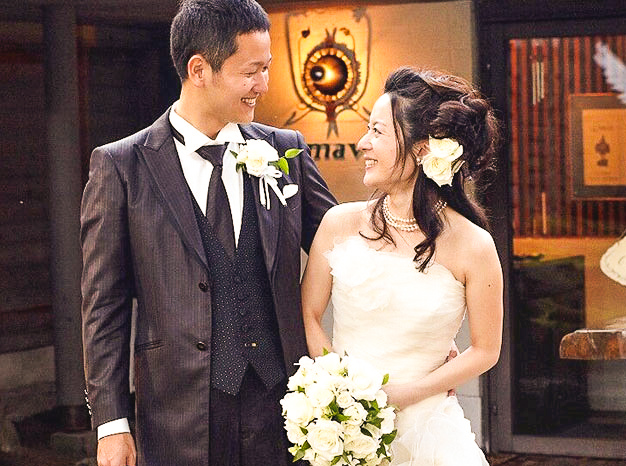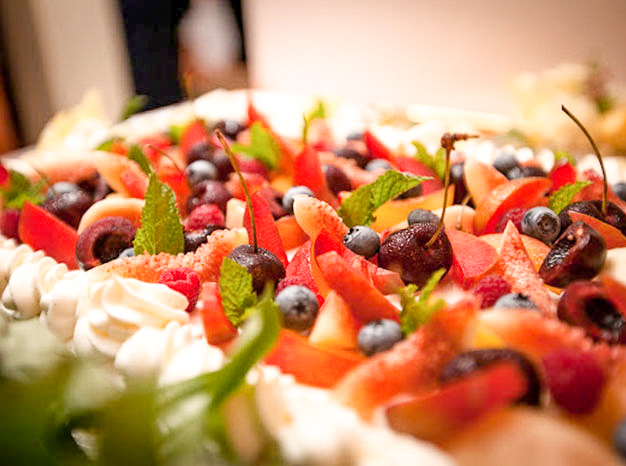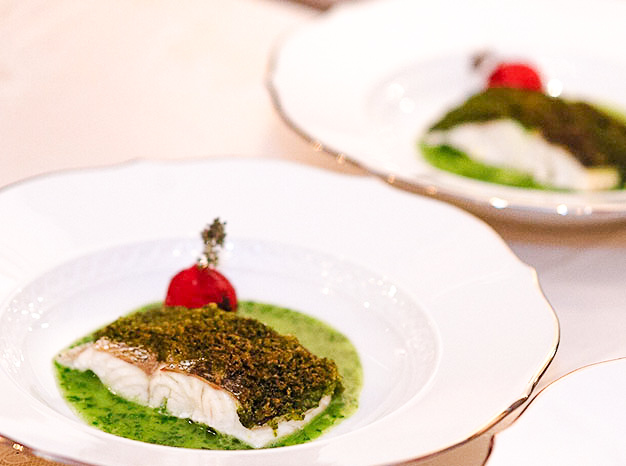 One of the things that we can recommend with utmost confidence is the cuisine at Primavera. With exquisite technique, we cook with authentic ingredients grown in the rich nature of Karuizawa and prepare each plate with passion and love. In particular, we pay every attention to the selection of the ingredients. They include schizandrae fructus, organic mushrooms, and highland vegetables picked at the foot of Mount Asama, as well as vegetables and herbs we grow ourselves. Gibier such as deer and boar are procured from the hunters in Yatsugatake, and fresh seafood from contracted fishermen in Toyama by the Sea of Japan. The cuisine offered to the guests is made-to-order according to both of your preferences upon consultation. For example, we can make an original menu including such things as dishes that reflect the guests' favorites. We can also prepare a dish that is memorable to both of you using ingredients from the four seasons and cooking them according to your preferences.

○Full-course French cuisine: from ¥12,600 per person
---
Wine & Cake
---
◎ Drinks
We are also very particular about wine, which brings out the flavor of the dishes. Every year, we tour the vineyards in France, select what appeals to our five senses, and have them shipped by air mail. We will make our best effort to procure labels that are not on the list. Please contact us.

○Champagne bottle: from ¥7,700
○Wine bottle: from ¥3,700
○Medium-sized bottled beer: ¥840
○A glass of aperitif/digestif: from ¥683
○A glass of Shinshu apple (ruby) juice: ¥525
○A glass of an original blend herb tea: ¥525
○All you can drink (90 minutes): from ¥3,000

◎ Wedding Cake
Our wedding cake uses a generous amount of local eggs that are freshly harvested in the morning, fresh cream delivered from a local stock farm, and special butter ordered from France. For decoration, we use nuts picked in the forest and fruits from the four seasons such as apples and prunes that are the special produce of the region. You can enjoy the cake with your guests and share the joy. It may be a fun idea for you two to cut the cake and serve everyone.

○Fresh cake: ¥5,250 basic charge + ¥1,050 per person
○Croquembouche: ¥20,000 basic charge + ¥1,050 per person
---
Banquet Room
---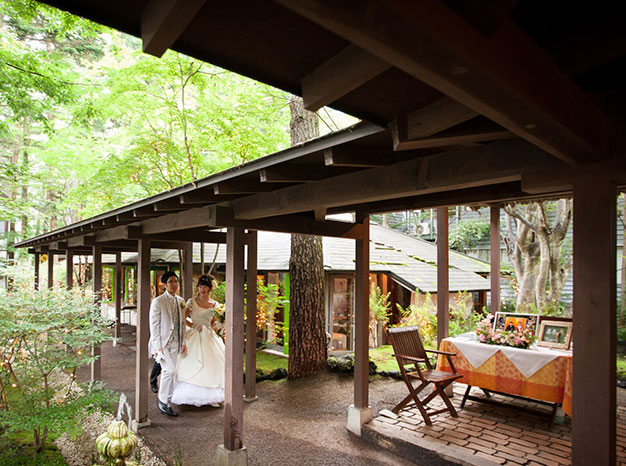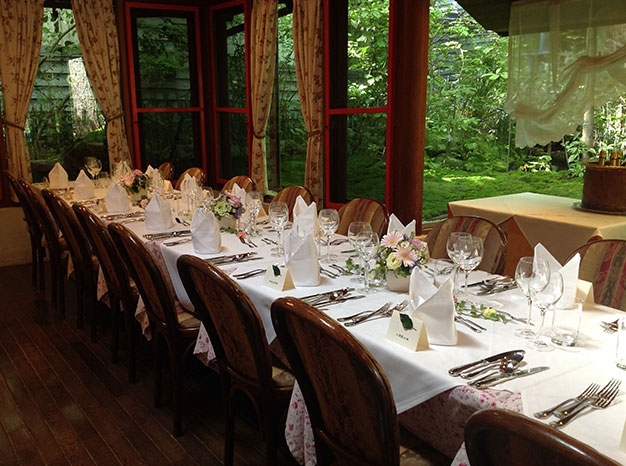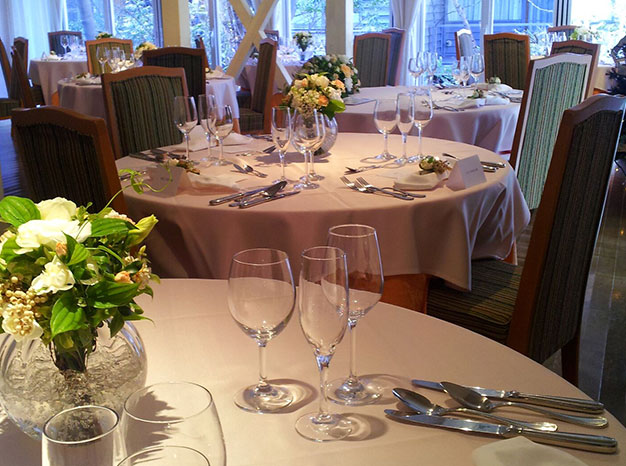 ◎ Restaurant, Main Building
Building around the concept of "a hideaway surrounded by trees," the hotel is designed with a resort in the French highlands and a two-star restaurant in mind. From the large windows viewable from the table, you can enjoy Karuizawa's four seasons in transition, an atmosphere that accentuates our creative French cuisine even more.
You can host a cozy restaurant wedding where guests can enjoy fine cuisine and a good conversation.

◎ Guest Rooms, Annex
The detached house was previously used as a vacation villa and has been remodeled into a party space. It feels just like your own private vacation villa. The two of you and your guests can sit around a table and enjoy a party as one. From the room, you can view the courtyard with its pond, allowing you experience a passage of time different from the city.
It is a style of entertaining each guest in a way that reflect how much you value their company.

○Dining style: Up to 48 guests
○Standing style: Up to 100 guests

◎ Open Space
During the seasons with warm sunlight, you can stage your event in the open space. For example, you can make a toast or have a cake-cutting ceremony, and then celebrate your "first eating." Feeling the refreshing breeze of the highlands, the setting will heighten the expectations for the banquet that is to follow. You can also use it as a waiting space to entertain guests with an original cocktail until the banquet begins.
---
Flowers
---
Flowers are indispensable at parties. We will refer you to an affiliate flower shop. You can consult directly with our full-time flower coordinator to discuss the bouquet, dress, and other items that match what you envision. One idea may be to use the same flowers in the bouquet to make mini bouquets to adorn the tables and give to each guest as a gift when you see everyone off.
---
Overnight Stays
---
The guest rooms are located in the Main Building across the courtyard. We offer an environment where you can relax at ease, basking in the afterglow of the day. Guests coming from remote locations have also given us positive reviews. You can also use the rooms for day use as a waiting or dressing room.

○All 9 rooms: All junior suites (capacity of up to 28 persons)
---
Others
---
○Sound systems...Main Building: Background music only. Annex: CD and MD players free of charge. Microphones and operators are optional (¥63,000 per 3 hours).
○Room charge and fees for setting up the venue...¥31,500 per 2 hours. ¥10,500 for every overtime hour.
○Parking...20 cars